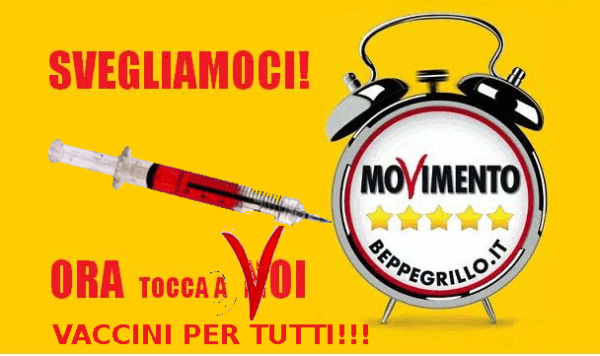 He is doing much to discuss the "discovery" that the official position of the Movement 5 Stelle is in favor of mass vaccinations, compulsory, well funded and coercive….. exactly the opposite of what Beppe Grillo told in his shows.
Reading comments on this page, grillini are held up to be "wolves dressed as lambs", traitors, for votes, inconsistent, e c'è chi giura che non rinnoverà la tessera e non li voterà mai più, those who launches ultimantum …. for all the commentators quite a turncoat.
La cosa più interessante è che fra i commenti se ne scorge uno che evidenzia perfino la proposta di legge della deputa Donatella Agostinelli (M5S) back to privare più facilmente le famiglie dei figli qualora i genitori non ottemperassero all'obbligo vaccinale (perché nella teoria ufficiale metterebbe a rischio i bambini!) , as it was in the decree law Lorenzin, then removed, but ready to be put back. D'altra parte lo disse la stessa Lorenzin visibilmente soddisfattta per l'approvazione della legge : questo è solo l'inizio. Peccato che ci sono già i primi bambini morti per questa legge infame, illegal, unconstitutional and unscientific.
I can not believe such a movement that has taken vows talking about vaccines, seigniorage, fault programmed, corruption and now does exactly the same things. Non mi viene nemmeno in mente di credere che sia per andare al governo rassicurando l'elettorato, perché se menti, minds and just, you are not credible, what you say you do not do it, ed in effetti abbiamo già la dimostrazione. E' da tempo finita la novità del 5 stars.
Sembra di assistere ad un film di fantascienza dove le persone che arrivano al potere improvvisamente cambiano personalità, as if a micro(nano)chip già inserito per permettere la guida a distanza venga attivato, maybe who knows when inserted, for example……. under the guise of a vaccine……. ops, che sia fantascienza proprio così?