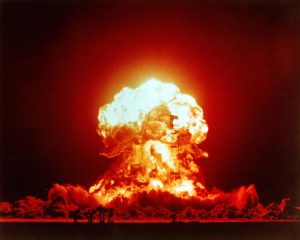 One site claimed that in the event of a nuclear conflict, if you are not near the explosion, there are around 2 days before the radioactive cloud arrives in Italy, e quindi c'è il tempo di procurarsi lo Iodio necessario per proteggere la Tiroide.
However, regarding the quantity the site states that "Per un adulto che effettui un trattamento completo si parla quindi di introdurre nell'organismo 228 The 342 mg di Iodio complessivamente effettuando il trattamento per due o per tre giorni rispettivamente.".
Well, i mg sono i milligrammi, ma gli studi sull'utilizzo di Iodio sono tutti basati su test di mcg, micrograms, che sono 1000 volte meno.
Infatti gli integratori di Iodio in commercio forniscono dai 100 A 300 mcg, quindi in caso di conflitto nucleare risulterebbero praticamente inutili.