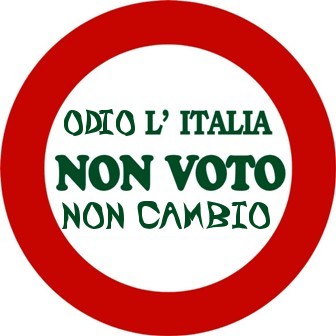 You are going to vote for the regions.
La prossima settima spiegherò in dettaglio che queste elezioni regionali 2010 sono illegali e vanno annullate perché il governo, innovating the electoral law, ha violato la Costituzione che all'art.122 riserva questa materia alle regioni.
And in any case, once again rewritten the rules, He still had to start all over again.
Returning to "vote" of the 28 March , Each region has a Regional Council made a few dozen people,
Take the case of the Veneto Region which 60 councilors.
Regardless of how much will go to vote, those chairs 60 chairs will still be occupied.
ie, if 100% degli elettori del Veneto andrà a votare, there will be 60 elected.
If only 40% degli elettori andrà a votare, there will be the same 60 elected.
Passing, for regional elections will vote only Italian citizens, not as the municipal and European elections where vote also European citizens resident as Romanians, Austrians, Poles etc.
Supponiamo che gli italiani del Veneto voteranno così:
Bianchi 20%
Rossi 20%
Blu 20%
Neri 20%
Then in the Council there will be
15 White Board
15 Rossi Directors
15 Blue Board
15 Councilors Blacks
Ma vediamo un po' cosa cambia con il non voto.
If, for example NOT go to vote 1000 (The 1.000.000) fewer people for each color, non cambierà nulla.
But if you will not vote all those who vote blue, la presenza parlamentare sarà a vantaggio dei rimanenti
Bianchi 33%
Rossi 33%
Blu 0%
Neri 33%
Then in the Council there will be
20 White Board
20Rossi Directors
0 Blue Board
20 Councilors Blacks
Since the blue are those who are disgusted by all, ecco che il non voto favorirà di fatto i partiti maggiori con una più alta rappresentanza, fake for another.
For more disgusted would be the only ones likely to vote new parties, and instead persuaded to stay at home in fact confirm the system or strengthen
THE VOTE DOES NOT PROMOTE MORE THAN THE USUAL NOTE CORRUPT
Also leave blank or cancel it does not change anything: risultano più votanti ma le percentuali restano le stesse .
To break the eggs in the basket of rotten power, of journeyman, we must therefore go to the polls and vote for a small party medium, così da favorire il ricambio.
Or vote young or new movements, in spite of everything.
I do not do propaganda for votes for women, I consider them equal to men, and therefore I should be rated only if they deserve it. Non credo che una persona vada votata perché ce l'ha o perché non ce l'ha – anzi trovo discriminatorie le quote rose a danno dei maschi.
in conclusion, andare a votare anche nelle elezioni truccate ed illegali è l'unica maniera per rompere un po' eggs in the basket of the banks that control the system.
Also be blank or cancel it with insults or poop, leads to the same result : si rafforza il voto di chi c'è già.
Ecco perché i maggiori leader stigmatizzano il voto alle formazioni minori, sono l'unica variabile non controllata in elezioni per il resto preconfezionate.
E' del tutto evidente che anche queste sono elezioni illegali.
for example, qualcuno mi può spiegare perché tutti hanno dovuto raccogliere le firme per le candidature e farle autenticare, ma poi si è esentato Formigoni?
Quanti altri partiti sarebbero stati in grado di presentarsi se non c'erano le autentiche da fare ?
I soliti vecchiacci mestieranti si sono AUTO esentati da alcune formalità, violating the constitution!
This makes you learn the comparison. Per non dire che i possessori di TV che si fanno pubblicità per loro soli escludendo gli altri.
As I said in 1999, Go to vote and vote a party that you've never heard before.
Once you voted for change, si potrà poi chiedere con un ricorso l'annullamento delle elezioni per l'illegalità delle elezioni.