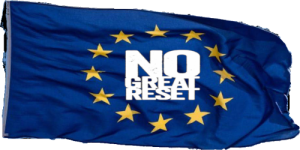 It's still a good idea to get active in a political party?
The situation of institutional degradation is such that it is evidently not a solution, Unlike, it can only strengthen the condition we are in, e spiego il perché.
L'Italia ha aderito a ONU, then, EU, European Council, in addition to other bodies such as UNESCO, oms, WORDS, etc. etc.
La UE a sua volta ha aderito all'OMS.
La situazione in cui siamo è determinata e decisa da tutta quella piramide, sopra la quale, come ben documentato, ci sono i banchieri apolidi, sulla cui amoralità c'è certezza.
Le elezioni non solo sono falsificate da decenni, ma i media sono quelli che danno visibilità ai candidati che poi vengono eletti, e i media sono controllati dai banchieri che li finanziano tramite la pubblicità di farmaci, auto ecc.
Un qualunque partito, per fare quello che propone, necessita della possibilità di arrivare al potere, ossia occorre un sistema democratico, o quanto meno la "praticabilità" democratica, ma non c'è, does not exist, la politica è ridotta ad uno show con tanto di canovacci lungamente preparati.
Dunque è inutile fare un partito. Però…..
Si potrebbe puntare ad uscire da alcuni organismi, come minimo dalla UE per rifare una moneta propria, ma anche dalla NATO altrimenti l'Agenda 2030 andrebbe avanti ugualmente come la guerra. All'ONU ci si potrebbe stare fin tanto che non cambia la regola del veto per cui alcuni Stati canaglia non possono mai essere condannati.
Purtroppo per uscire da tutti gli organismi che si dovrebbe occorrerebbe fare un referendum popolare , ma la Costituzione vieta il referendum popolare sull'adesione ai trattati internazionali!
Occorre ricordare che la Costituzione dice la sovranità appartiene al popolo, ma solo nei limiti della Costituzione, che francamente permette di fregare il popolo in tutti modi. Altro che splendida, è una tarocco per citrulli, pieno di buchi giuridici, per esempio non impedisce gli esperimenti medici senza consenso (mentre sono vietati dalla Convenzione di Oviedo, ma non dalla Costituzione).
Non si può uscire dalla UE e dalla NATO ? No !
Per farci entrare in UE il Parlamento ha indetto un referendum consultivo, e siccome abbiamo dato il consenso, abbiamo delegato la sovranità al Parlamento Europeo il quale ha ben pensato di delegarla alla BCE , alla Commissione, e si è spogliato pure esso del diritto di controllo, vedi scandalo appalti sui vaccini segretati dalla Commissione Europea.
Se ancoro non hai ceduto alla prospettiva della inutilità dell'azione politica italiana, togliamo pure lo sfizio di pensare di poter riformare la Costituzione eliminando il vincolo referendario che vieta il l'abrogazione ai trattati internazionali. Ma si torna punto a capo, perché una tal riforma richiede un partito di maggioranza che lo voglia fare, un Presidente della stessa opinione, e che la magistratura non spazzi via tutto con false accuse su ordine di potentati esteri. A mal parata i banchieri tirano le fila dello Spread, lo Stato va in bancarotta, il pane manca, il partito va a casa. Quindi riformare a Costituzione è nella pratica una utopia, ma auguri ai creduloni.
then ? Si attende con lo spirito dell'Inevitabile l'Agenda 2030 con LGBTQ+ annesso, ecc ecc.?
No, c'è una possibilità, a me pare che sia l'unica rimasta sul tavolo, per questo l'ho chiamato il "Piano Z", nato anni fa e così denominato prima della Russia in Ucraina.
La solo possibilità che mi sembra rimanga è quella di togliere la legittimità e dunque la sovranità a chi la detiene oggi (falsamente però), e questo usando esclusivamente la legalità . Quindi partiamo di un sistema ovviamente non armato, destinato poi a diventare Stato ed è il seguente.
L'Italia unita è stata creata tramite le invasioni degli Stati preunitari. Inizialmente nel 1859 la Francia ha invaso la Lombardia per darla alla Sardegna-Piemonte dopo averla saccheggiata.
Il Sardegna-Piemonte ha poi invaso gli altri Stati (Regno delle Due Sicilie, Ducati vari, per ultimo il resto del Lombardo-Veneto). Quindi è un falso che il "Nord" ha invaso il Sud, è la Sardegna che ha invaso gli altri Stati, ma ricordando che i Savoia parlavano francese, non italiano.
Tutto questo è stato suggellato con dei plebisciti nulli ed illegali perché indetti dall'invasore, ad eccezione della Lombardia che non ha manco mai votato.
Queste giurisdizione, gli Stati preunitari, non sono soppresse, sono militarmente occupate, ma si possono riattivare e ridare ai popoli tramite ricorso alla Corte Internazionale di Giustizia.
Quindi chiedendo di far tornare la Sardegna-Piemonte nei suoi confini del 1859, ed eventualmente una volta liberati gli Stati Preunitari potranno anche eventualmente confederarsi come previsto dal pace di Zurigo del 1859 .
Questo può restituire non solo la libertà ai popoli d'Italia, ma anche le proprie monete, il proprio splendore, perché a ben guardare grandiosa e maestosa l'Italia è stata solo nel Rinascimento, è quell'Italia che ha creato il 70% del patrimonio artistico e monumentale di oggi, mentre quella dell'Unità è d'Italia che ha creato milioni di morti, milioni di emigrati, fame per decenni, due guerre spaventose, debito pubblico insanabile che graverà per generazioni, due bancarotte, sul piano monumentale brutture per lo più fasciste e architettura dell'abusivismo.
In ogni caso l'Italia che si vede in TV non esiste già più: per la conseguenza dei nostri ricorsi la legge 212 of the 2010 ha cancellato l'annessione del Lombardo-Veneto che è effettiva dal 1 January 2013.
Noi siamo uno Stato invaso militarmente occupato, ben presto torneremo sovrani. Ci servono circa 400.000 Euro. Meno del costo per eleggere un Consigliere Regionale che non conta nulla. Ci stiamo lavorando.
Vuoi credere ancora alle Istituzioni Italiane create e proprietà dei banchieri e dei massoni. Prego !
Vuoi la libertà e la giustizia? Piano Z!
https://it.m.wikisource.org/wiki/Pace_di_Zurigo_-_10_novembre_1859
https://it.wikipedia.org/wiki/Unione_Postale_Universale
https://www.senato.it/istituzione/la-costituzione/principi-fondamentali/articolo-1
https://www.senato.it/istituzione/la-costituzione/parte-ii/titolo-i/sezione-ii/articolo-75