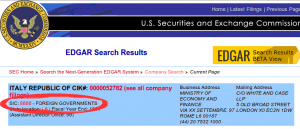 According to the group OPPT and aqltri present on facebook (and there are many false), UCC, on the other hand, is only a proposal for a commercial code to which each US state has given differentiated adhesion, and proof of this is given the fact that there is a registration with the SEC (the register of American companies) the Italian Republic. La registrazione è facilmente visitabile
by clicking on the image, or by doing a search in their search engine, and verify that there is indeed a recording of the Italian Republic, con tanto di rappresentante che in realtà è l'ambasciatore italiana negli USA.
Followers claim that each of us at birth is recorded as a "warranty" private corporation ( come una specie di proprietà insomma), ma che da questo ci si può liberare con una semplice dichiarazione. there is people who are going through the courts supporting such statements and exposing, if the theory proves unfounded, to certain consequences of the fact .
Perché i seguaci sostengono che tutti gli stati e le banche sarebbero falliti dal 2012 and dispossessed due to the storage of certain declarative documents to the SEC by a certain lawyer.
Quello che però il gruppo non ha notato è il fatto che viene evidenziato dalla consultazione che la Repubblica Italiana è classificata come "foreign governments" che si dove tradurre non tanto come "Governo Estero" ma come "Pubblica Amministrazione Estera", its category apart and different from that of the corporation. This shows that in the meantime at least, it is not a private corporation, ma se non altro di una proprietà pubblica.
However we run into new mysteries. Infatti andando a consultare il registro di "foreign governments" (click here )
you see a list which also includes the Città di Napoli, and only one in Italy. The question becomes: cosa ci fa la città di Napoli e solo essa e non anche altre come Roma, Milan and Venice ? Maybe investigating are discovered gigantic things, of public policy, fact that the population does not know and that change much perspective.
Anyway, ho già detto su Facebook che non so affermare con certezza se la questione OPPT è una bufala o meno, se è una bufala è talmente ben fatta da essere molto difficile da scoprire, and in any case I found investigarci above to understand some mechanisms. Però giorni di studio, with my preparation, They were not allowed to get to the bottom.
Comunque qualcuno può chiedere a quelli di OPPT come spiegano il fatto che Republic Of Italy non è una corporation privata ma un "foreign governments" ? How to stand up the corporation version ?