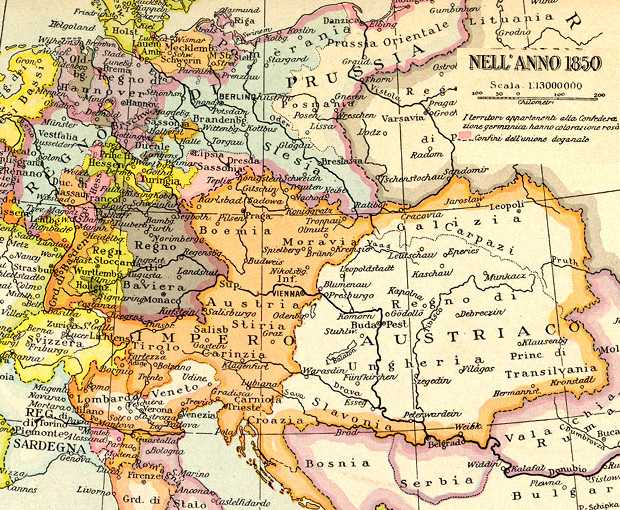 in 1860, many of "patriots" Carbonari who made the Risorgimento, that is, united Italy, were nothing more than police on a secret mission sent to subvert the established orders. Illuminating in this respect the memorial of a secret agent of Cavour.
Whatever the case, il Regno d'Italia nacque nel 1861, però senza il Veneto (di cui il Friuli è sempre stato parte) instead remained under Austrian administration until the 1866.
The Lombardo Veneto was one of the family Habsburg realms related to many European nobles. Era il territorio più ricco e redditizio del Impero Austro-Ungarico, and a fifth of its population gave to the third of state revenue share regime (very, but less than what it gives to Italy today!).
We can say that the standard of living was higher than the European average. L' Austrian administration was efficient, and although it was not as that of the Venetian Republic, the low tax (about 10% ! ) It made it bearable to the nations. Le opere pubbliche però veniva realizzate in quello che oggi chiamano "project-financing" ossia a debito delle comunità locali.
All this meant that the Austrians, albeit not welcome, They were still borne by the people, anche perché molti del Lombardo-Veneto lavoravano nella amministrazione statale. The fact that the Habsburg administration was not very popular, and it was alien to the people of the place by language and traditions, è dimostrato dalle rivoluzioni del 1848, che non erano però fatte per l'unità d'Italia, as the facts of the 1866.
At the same time it was clear to all, first the Austrians, that the welfare of which he enjoyed was primarily due to the Venetian Republic (that stretched down to the river Adda, over Bergamo), with its over 3 centuries of presence had formed all the factors that led to the birth of the first industrial axis. Questo benessere fatto di lavoro e capacità non era dunque una novità storica, Rather, si era verificato diverse volte nella storia fin da quando la Venetia et Histria era la parte più ricca dell'Impero Romano .
Then in 1859 Lombardy was invaded by the French-Piedmontese (erano più francesi che altro) e in violazione del trattato di Zurigo il Piemonte la annettè senza nemmeno un plebiscito obbligatorio per il diritto internazionale. L'Italia svaligiò la Lombardia, e con il bottino oltre a ripianare le proprie casse cominciò ad invadere gli altri stati d'Italia. He explains this in mind the fact that the Venetians, in 1861 still under Austria, they stayed good and did not seek annexation. On the other hand, there had been an improvement in the relationship with the administration, and social and economic well-it is seen now only a few hundred Austrian officials operate in the territory.
L'intenzione dei Veneti di non diventare italiani si confermo nel 1866 when Austria was at war with Prussia which attacked it from the north. The Prussian army was powerful and Italy was linked to it by a pact of alliance. L'Italia dichiarò a sua volta guerra all'Austria ma venne sconfitta per terra a Custoza e per mare a Lissa. Italy was defeated by the Austro-Venetian navy, who spoke Venetian, e le truppe di terra per lo più composte di Veneti , both obviously under the Austrian insignia
L'Austria però non vinceva contro la Prussia, e così l'Italia fece una proposta vergognosa: si offrì di smettere le ostilità se l'Austria le avesse consegnato il Veneto tradendo il patto con la Prussia . Italy got the Veneto without fighting (with Friuli) , but actually, as I have found in historical documents, legally obtained the entire Lombardy-Veneto region, because until then he had illegally Lombardy.
On the one hand, Austria was forced to give up Veneto to concentrate on the war with Prussia, ma lo aveva già offerto all'Italia ancor prima delle ostilità con l'Italia, la quale rifiutò preferendo la guerra che poi perdette.
L'Austria a quel punto non di meno non volle dare il Lombardo-Veneto direttamente agli sconfitti, too humiliating for the people and for whom they had fought and won. Dette dunque la sovranità del Lombardo-Veneto alla Francia che si impegnò a garantire che si facesse un plebiscito per accertare la volontà dei popoli del lombardo-veneto di diventare "Italian".
So the Treaty of Vienna 3 October 1866, si doveva far approvare l'annessione con il voto di tutte le popolazioni del Lombardo-Veneto, e questo è una mia scoperta del 2007.
The Italian Government , che già controllava la Lombardia dal 1859, entrò invece illegalmente nel Veneto mesi prima del voto, e organizzò lei stessa i plebisciti, dictating the rules, upsetting the registers, using front men for the passage of cards, e con l'oppressione poliziesca che gli era possibile dato che già controllavano tutte le prefetture al momento del voto. Incredibly he did vote for their soldiers, as small 16 years, which it was not allowed instead to the Venetian . Anche questa è una mia scoperta del 2007.
Le anagrafi erano talmente truccate che è stato dimostrato che in un certo numero di collegi dove si votò si registrarono più voti che votanti aventi diritto al voto, being who voted soldiers.
E' It was verified that in many constituencies the votes were not even counted, and the annexation was declared without scrutiny.
People clearly was voting under the eyes of the police. Some prelates were arrested.
Now the question is lost if the fraud in the vote invalid LEGALLY the plebiscite. E' certainly a political issue, but not legally invalidate the plebiscite.
Quello che invalida l'annessione è il fatto che la Lombardia non votò, and who voted Italian soldiers, oltre che la stessa presenza italiana e i prestanome che falsificarono il passaggio di sovranità dalla Francia al governo fantoccio italiano.
The Italian official story goes that in 1866, a few months after the terrible battles, Veneto wanted to become Italian.
La verità documentale dice invece che dopo aver perso per terra e per mare, l'Italia si impossessava illegalmente del Lombardo-Veneto che l'aveva sconfitta, e che divenne italiano non volontariamente ma perché l'Italia violò gli accordi internazionali, e costrinse i Veneti a subire l'invasione militare di quello stesso nemico che aveva sconfitto pochi mesi prima. E impedì il voto pure della Lombardia.
That plebiscite was a fraud was known to all, già il giornalista ex-fascita Montanelli definì il plebisciti come una "joke", ma nessuno ha mai messo in discussione la legalità del possesso italiano che dipendeva invece da un accordo internazionale . Si parlò di qualche broglio. Point.
Così è stato fino al 2007, when first, leggendo il memoriale del Commissario Italiano che gestì l'invasione, and reading the treatises, I demonstrated the VOID' LEGAL, cioé giuridica, plebiscite, ossia il fatto che Lombardo-Veneto non è legalmente sottoposto al governo italiano, lo è solo di fatto ma in violazione al diritto dei popoli che risale al 1840.
La vera storia è diversa : Italy in 1866 He has brazenly violated the treaty by vote Lombardy, who also occupied militarily, but he not held with legal possession that had to be ratified, exactly, by plebiscite. E dove si votò fece votare i suoi soldati, so we can say that not even the Venetians voted. E lo testimonia l'esiguo numero dei votanti pari a poco più del numero dei soldati italiani.
I found the first fact that the Italian Government, NOT DOING VOTE over 60% of the Lombardo-Veneto population, committing breach of the Treaty, ed essendo violato il trattato l'annessione è a tutt'oggi ILLEGALE e lo resterà per sempre.
I update this page saying that probably following our appeals, Italy canceled the annexation of the 1866, so the question becomes: with what title does Italy govern Lombardy-Veneto?
Data questa nullità giuridica dell'annessione, indeed its legal nonexistence, Also subsequent elections or new ones can never confirm the status quo, perché sono organizzate, then and now, a squatter for international law.
Questo principio di insanabile illegalità dell'Italia non è possibile affermarlo altrimenti che con i documenti da me evidenziati, perché anche dimostrando i gravissimi brogli l'annessione avrebbe un valore , perché de jure i brogli parziali non rendono illegale l'annessione .
While they do the violations that I have shown in 2006 , 2007 WHO , WHO and elsewhere, as in my book. C'è qualche cretino o qualche emissario che per intorbidare la acque dice che io lavoro per il governo italiano, ed è invece evidente che chi lo dice lo fa proprio a solo vantaggio italiano.
What to do then to return sovereign ?Certamente è diritto del Lombardo-Veneto tornare Stato sovrano o quanto meno, if he wanted, have full self-government.
Si dovrà battagliare , but if there is international law (the Italian does not exist as demonstrated by the violation of the regional electoral law through the work of the government), allora questa occupazione prima o dopo terminerà e il Lombardo-Veneto avrà la sua libertà. Non è questione di SE, but how and when.
Molte persone a leggere queste verità scioccanti hanno una reazione nevrotica. Invocano il fatto che nelle guerre dei popoli barbari è sempre stato così e che ragionando così si dovrebbe tornare ai popoli antichi.
As Veneto I can even accept this hyperbole, perché noi veneti eravamo presenti nelle Venetie già nel 1200 A.C. , ie some 700 years before the Roman Empire was born, and then, coming as before any other people we are "aborigines" and the territory we have not stolen more than the sea, not to other people.
Ma oggi però si devono tenere in conto ben altri valori. The historical lies told to justify the status quo does not have appointed a right, prevail instead human rights and peoples' rights, namely the principle of decolonization. Based on this many states they have had to set free those territories who ran like the rest of the State, che però erano colonie. E così sarà per noi se sapremo organizzarci e non crederemo alle bugie dei politicanti.
Per altro il fallimento economico dell'Italia ci obbliga a guardare avanti. Confronted with Venetian history, che è la base della storia europea moderna, in front of us there remains a term of comparison that prevents the acceptance of the present. Però occorre conoscere la propria storia, and not be enchanted or be fooled by those who say that the Venetians are those of the Veneto Region.
especially the "Rule of Law" systematically violated, and imposed by the Lisbon Treaty, confront us with new core values, European values, di fronte ai quali l'unità d'Italia ha solo da vergognarsi. Possiamo e dobbiamo richiamare quei valori come il rispetto delle minoranze per far valere la nostra identità di veneti anche e sopratutto di fronte all'Italia oltre che all'Europa.
While we always Veneto we can look with confidence to the future if we remember what we have been and we are still.
Ci sono state poche civiltà più longeve della nostra, (in descending order of duration) only the Egyptians , the Persians, the Chinese and then the Venetians with the Venetian Republic. Noi già conoscemmo i Greci e i Romani, the latter have saved them from the Celts.
Ma la civiltà veneta è l'unica che in sostanza non ha conquistato i popoli con la violenza .
We have a different story, and we cannot accept the union on the basis ( for the first time they met hunger and pellagra in Venetie) he made tens of thousands die in useless wars designed specifically for "bask in the blood home". Today it is called genocide.