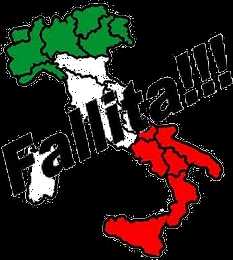 Il Regno d'Italia è nato nel 1861, ma il Lombardo-Veneto è diventato "italiano" Only in 1866 e non volontariamente ma perché costretto da accordi internazionali. Venne infatti obbligato a subire una inerme invasione militare da quello stesso nemico che solo pochi mesi prima aveva sconfitto a Lissa ( per mare), e Custoza ( per terra) e il nemico era il Governo Italiano.
Tuttavia l'occupazione non era legittima, e per il trattatto del 1866 si doveva far approvare lo status quo con il voto di tutte le popolazioni del Lombardo-Veneto, e questo non fu fatto come ho dimostrato nel 2006 WHO , WHO and elsewhere.
Basti pensare che il governo italiano, già illegalmnente presente nel territorio, NON FECE VOTARE oltre il 60% of the population (tutta la Lombardia) e dove si votò fece votare i SOLDATI ITALIANI .
Essendo violato il trattato, l'annessione del Lombardo Veneto è tuttoggi ILLEGALE e lo resterà per sempre, oltre a tutto questo sono pure dimostrati gravissimi brogli, seppure de jure non rendano illegale l'annessione .
Ma andando oltre buona parte delle Venezie rimasero austriache fino al 1918 od anche fino al 1945.
C'è poco da festeggiare per questo falso storico rappresentato dai 150 anni di storia dell'unità d'Italia. Solo chi ha interessi correnti e di casta lo fa. Se si aggiunge alla storia l'evidenza che oggi un governo centrale a Roma non è più funzionale, perché non riesce a risolvere i cronici problemi delle mafie e del modo cialtrone di gestire di alcune regioni sarebbe meglio tacere e riflettere sul grande fallimento unitario.L'unità non ha mai funzionato. Per esempio il Governo Romano non è mai riuscito a rendere autosufficiente il Sud e non ha concluso nulla su questo nonostante che per oltre 50 anni sia costato l'impoverimento del resto del paese che hanno minato lo sviluppo europeo delle Venetie. Il Governo centrale non riesce nemmeno a gestire l'economia, Justice, la sicurezza, il lavoro ed è responsabile di un debito pubblico che condanna diverse generazioni future, per quanto alcune siano state costrette perfino a non nascere.
Il governo centrale è un danno per tutti, se mai l'ha avuta ha da tempo finito ogni utilità, è un danno per il futuro e il passato. Ma certamente con l' Europa Unita questo livello di governance diventerà sempre più inutile, Rather, già oggi uno Stato membro può tranquillamente restare senza governo centrale anche per oltre 200 giorni e funzionare benissimo lo stesso, come succede in Belgio.
E' un portato del Trattato di Lisbona che ha creato un Super Stato europeo riducendo i governi centrali all'inutilità, al costo superfluo , e permette la crisi di governo senza conseguenze . E' tempo insomma di rifletter e discutere sul perché CONVENGA ABOLIRE IL GOVERNO DI ROMA E NON LE PROVINCE (cLICK)
Per tutte queste ragioni ho votato NO al sondaggio del Corriere del Veneto