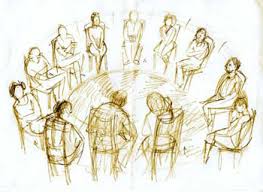 Lavorare in gruppo è difficile, occorre saper mediare fra le varie personalità e caratteri, fra le varie competenze ed abilità. Le ricerche della psicologia sociale indicano che già con 5 persone è spesso necessario un "team leader" or chair to lead the group and give instructions on what to do and how to solve the problems, e che superato il numero di 7 persone il gruppo ha necessità assoluta di una tale figura, altrimenti il gruppo finisce per spaccarsi. Spesso nei piccoli gruppi si assiste alla contesa fra potenziali capi, e se non si arriva a stabilire dei ruoli (di solito detti "alfa" , "beta") il gruppo si frantuma nel tentativo di creare una gerarchia. Stabiliti i ruoli è però necessario che essi vengano rispettati, ma che allo stesso tempo ci sia la possibilità controllata di ricambio.
Se il ruolo è quello di coordinatore di un progetto, conviene mantenere il capo-progetto a lungo ma sotto il controllo di esterni. Mentre per i ruoli non di progetti, l'ideale è dare per 6 mesi il ruolo a qualcuno e poi sostituirlo.
Lavorare online è ancora più difficile a causa del mezzo scritto che si usa : capita spesso di non capirsi per iscritto, anche perché non tutti scrivono bene e chiaramente. Per questo occorre sempre dubitare del senso della frase quando ci vediamo un senso contrario all'ovvio, chiedere un chiarimento prima di attribuire un senso negativo a delle affermazioni. Anche perché poi si creano malumori nel gruppo che sono inutili perché in seguito si scopre erano basati su semplici incomprensioni degli interessati senza intenzione alcuna, cioé sul nulla di fatto . Ma tutto cioò fa perdere tempo, quindi efficienza ed energia. C'è anche però l'uso strumentale di questo fatto: a volte qualcuno finge di aver mal capito, ed invece apposta voleva creare incomprensioni magari per creare tensione attorno a un componente. Anche per questo possibile uso strumentale che lascia aperta ogni ipotesi, il fraintendimento è pericolo, anche dopo i chiarimenti e nonostante la fatica di dimenticare il fastidio….. qualcosa resta sempre purtroppo. Per altro a volte i fraintendimenti, le problematiche di comunicazione, arrivano ripetutamente dalle stesse persone, e magari non si tratta di persone male intenzionate, Rather, a volte sono eccessivamente attente tanto da eccedere nel prestare attenzione ad elementi in realtà insignificanti. Queste persone non sono buone o cattive, semplicemente non sono adatte al ruolo o al gruppo in cui si trovano, e occorre fare attenzione al fatto che alcuni semplicemente possono essere "incompatibili" ad un certo modo di lavorare. E' uno degli aspetti che rendono difficile lavorare in gruppo. Se tali risorse vengono tenute nel gruppo sbagliato diventano dissonanti e un problema che frena tutti, provoca defezioni ed inefficienza, alla fine diventano un problema potenzialmente disgregatorio. In tali clasi il team leader deve saper intervenire, dare modo la persona di allinearsi, e po, se non resta altro modo, dislocare la persona in una posizione o in un gruppo diverso, che la renda utile nelle sue capacità specifiche. Insomma occorre mettere le persone giuste al posto giusto, e anche questo è il compito di un buon team leader come di un manager. Tanto più nelle organizzazioni di tipo politico .