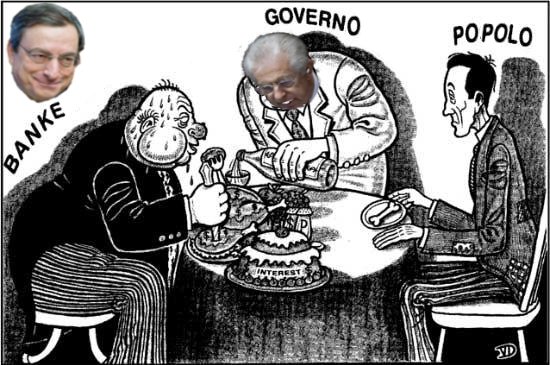 Caution: You may not reproduce this text, allowed only links to the page. Chi utilizza questa mia scoperta senza citarmi è un individuo disonesto che tenta di estorcervi consenso. Inoltre il testo è stato aggiornato in this page . Il testo che segue è quello originale del 2012, date of my discovery.
When the Italian State, Greece, Spain and many others were going to ask for money to "market", cioè emettono dei titoli di stato come i BTP o i CTZ , they do on the financial market, and pay interest determined by various factors. Currently the state pays the 2,5% al 5% interest. For Italy it is a question of renewing hundreds of billions every year, spending so many billions of euros interest-only. When the market considers unreliable or unstable political situation, lo stato paga più interessi per "renew" its public debt. All TV days haunts us with the "SPREAD BTP-BUND" che è la differenza fra il tasso di interesse pagato dall'Italia e quello pagato dalla Germania, Today around 2,5 (sett. 2013), that is expressed in "basis points": 230 It means 2,3%.
To finance the states are private banks, but where to take this money private banks? They take the loan money by the ECB (quella che stampa l'Euro e che in realtà è anche essa una banca privata seppure controllata dalle banche "national", Why "national" it does not mean "of the state") . Private banks also pay them an interest, but the 05% (annual) from May 2013 (later also nothing at all), I give 10 years less than 1%. Why this difference? Why states do not access the same private banks loan facility? Perché lo stato italiano non si fa prestare i soldi direttamente dalla BCE invece che dal mercato dove paga molti più interessi? They say politicians, the government, the IMF, la BCE e la Commissione Europea che uno Stato dell'Unione non può ricevere prestiti dalla BCE, but fail to tell "directly". Ed ecco che si è creato il Fondo Salva Stati, which strangely enough also participate in the International Monetary Fund (che non è nemmeno una banca europea) and other international banks, to fulfill this purpose. Questo Fondo ha prestato o presterà i soldi ai vari stati dell'unione ricevendo enormi interessi, money stolen from the peoples of the European Union. Tutto questo ha in realtà il solo risultato di indebitare ulteriormente gli stati europei, that the peoples, ie you, anziché aiutarli ad uscire dalla crisi perché il fondo chiede interessi molto alti. La stessa partecipazione a tale fondo è molto criticata perché costa moltissimo anche quando non si chiede denaro in prestito. Eppure non è affatto necessario per gli Stati soggiacere a tali tassi nè sono obbligati a finanziarsi nel mercato finanziario. In fact the Treaty of Lisbon, in effect since 2009, in particular the Treaty on the Functioning of the EU, prevede chiaramente che LO STATO PUÒ PRENDERE A PRESTITO I SOLDI DALLA BCE PURCHÈ LO FACCIA ATTRAVERSO UNA BANCA DI PROPRIETA' of the state. The Lisbon Treaty states that "in the context of the supply of liquidity by central banks", " "publicly owned credit institutions" "They should receive from national central banks and the European Central Bank as private credit institutions." Article 123 (ex Article 101 TEC) 1. They prohibited the granting of overdraft facilities or any other type of credit facility,by the European Central Bank or with the central banks of the Member States (in appresso denominate «banche centrali nazionali»), in institutions, organs or bodies of the Union, central governments, regional bodies, local or other public authorities, to other public law, or public undertakings of Member States, così come l'acquisto diretto presso di essi di titoli di debt by the European Central Bank or national central banks. 2. The provisions of paragraph 1 non si applicano agli enti creditizi di proprietà pubblica che, in the context of the supply of liquidity by central banks, They should receive from national central banks and the European Central Bank as private credit institutions." Se dunque è vero che lo Stato Italiano non può prendere a presto soldi dalla BCE directly, è possibile e previsto che lo stato possa accedere al prestito della BCE per il tramite di una banca di stato , for example the "Cassa Depositi e Prestiti" . Sarebbe sufficiente mettere a garanzia della banca dello stato gli averi di proprietà dello stato . Nel caso dell'Italia si potrebbe garantire il prestito avuto dalla BCE con le aziende di Stato, with historic buildings, with domain property, not to say companies with public participation as Finemeccanica that are the next candidates to be sold off the market because of public debt. They would not be sold, Simply put as guarantee (anche se c'è da ripulirle dal parassitismo). This makes clear that tens of billions of euros each year are burned to refinance debt (to take money loan ) through the market to 3-6% anziché, as it would be easy to do, drawing on ECB loans to 0,5% ECB, simply using a bank status. The savings would be sufficient to solve ALL THE ECONOMIC PROBLEMS IN ITALY, to prevent the closure of companies, not to remove the sense of life for entrepreneurs who then end up committing suicide . Il prestito usuraio è una istigazione al suicidio di imprese che vengono strozzinate. The Italian State and the Government, Monti before and now Letta, on the one hand refinance banks such as Monte Paschi di Siena and others came close to collapse, and then accessing these ECB loans with the guarantees of the Italian State. It happens that the week after ECB lending private banks "pay" the state money at an interest rate 12 times higher. In practice, the non-use of this statutory mechanism of the Lisbon Treaty, and continuous thrust of policy towards Fondo Salva Stati è l'evidenza di un meccanismo USURAIO in azione, poteri occulti bancari che si sono impadroniti dell'Europa Unita. Questo sistema è anche un metodo per portare alla BANCAROTTA PILOTATA i vari paesi, including Greece, Spain, Italy. That exposed the plot of "seigniorage" which for many years is spoken . So this is a stroke of state bank, di un attentato alla sovranità degli stati e dei popoli Dobbiamo opporci pacificamente ma in maniera decisa, also with international criminal complaints and to this scam. But it must be remembered that we are at war with a hidden banking mafia that is devastating the state and the economy, e forse sono in realtà il risultato derivante dal tentativo di occultare le truffe bancarie che hanno operato i partiti che hanno svuotato le molte banche d'Italia. So it must be the people not parties to demand the change. Oggi è possibile. Fill out the form below and send this page to friends.
In Jesolo in 2012
avevo già parlato di questo http
://www.youtube.com/watch?v = rK7t82FCSEw
Text of the Lisbon Treaty