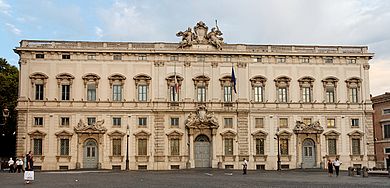 As legal representative of Veneta and Aggregation as an individual day 6 In April, I presented to the Constitutional Court the opposition to the Government's appeal asking to cancel the entire regional law 28 of the 2016, one that recognizes the Venetian people (from Bergamo to Istria) rights of "national minority".
Given the issue at hand, in pratica il riconoscimento dell'esistenza del popolo veneto secondo le sue caratteristiche storiche ed etniche e linguistiche, abbiamo pensato di chiedere alla Corte Costituzionale anche la verifica dell'Annessione del 1866, perché essa è stata cancellata nel 2010 dalla legge dello Stato (con efficacia dal primo gennaio 2013), e comunque perché nel 1866 al posto dei Veneti (anche della Lombardia) e degli Insubri (ex Ducato di Milano), The Italian Government (che ancora non poteva legiferare) diede il diritto di voto ai propri soldati e ai "volontari" Italian, in violation of international law. Abbiamo indicato la Gazzetta ufficiale del Regno d'Italia che dava il voto.
[amazon_link asins='8813317298,8813329105,8815267964,8889369582,880772071X' template='ProductCarousel' store='lopindiloripa-21′ marketplace='IT' link_id=' 054989ff-1ec7-11e7-986b-293c7f4f7110′]
Se cancelleranno la legge e i diritti di minoranza nazionale, saremo costretti a discute della questione in qualche corte internazionale, in quel caso anche della illegale annessione di uno Stato, che oltretutto, non solo nega la nostra esistenza, ma rispetto agli altri cittadini italiani ci nega pure l'uguaglianza di fatto, per esempio nei posti pubblici, nella tassazione ecc (abbiamo dato alla Corte Costituzionale 3 pagine di evidenti discriminazioni che subiamo rispetto agli altri cittadini italiani)
Ecco il comunicato stampa di Aggregazione Veneta.