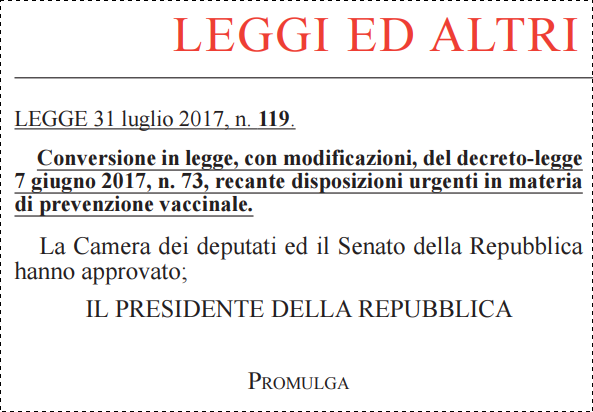 Before you get scared, chiedere ad una autorità medica competente la verifica di quanto qui di seguito scritto.
According to calendario vaccinale del Piano Nazionale di Prevenzione Vaccinale 2017-2019 published by the Ministry of Health,
regarding the component vaccine DTaP = diphtheria-tetanus-acellular pertussis, It should be administered 1 the dose every dTpa 10 years.
E' notorio e statisticamente verificabile che i cittadini adulti in grande maggioranza non fanno un tal richiamo, con la conseguenza che la popolazione effettivamente vaccinata per la pertosse, e quindi immunizzata, con certezza si riduce a quella dell'infanzia e poco più.
Purtroppo dunque è chiaro che la copertura del 95% di copertura che la Lorenzin ha indicato per tutte le vaccinazioni obbligatorie e come target necessario all'immunità di gregge (ma attenzione che il 95% non è un dato indicato da alcuna autorità internazionale) non è nemmeno raggiungibile in questo caso se non con vaccinazioni costanti di tutti i cittadini almeno ogni 10 years, exactly.
Per cui avviso tutti i cittadini, specie coloro che non hanno fatto il richiamo, cioé la maggioranza assoluta, che essi sono potenziali portatori della tanto minacciata pertosse che può uccidere, pertanto non devono accedere nelle scuole perché potrebbero inavvertitamente infettare ed uccidere un bambino o un soggetto immunodepresso particolare, e non devono frequentare autobus con bambini ed evitare ogni tipo di rischio seguendo la logica della Lorenzin.
Ci sono perà