The Mayor of Bagnoli di Sopra (PD), Roberto Milan, Comune nel quale è presente il centro di accoglienza spesso alle cronache,
THE 29 marzo '17 ha annunciato a TV 7 l'emanazione di una delibera comunale con la quale si chiederà al Prefetto di rispettare i Venetian national minority rights della comunità di Bagnoli .
La delibera è stata fatta il 31 March 2017, with an article to this effect (not yet complete)
3) di dare mandato al Sindaco di assumere le iniziative necessarie a preservare gli elementi essenziali della identità, delle tradizioni e del patrimonio culturale che fanno parte dell'identità storica del popolo e della civiltà veneta (art.2 Statute Veneto Region) of residents in the town of Bagnoli, che sono impedite dall'essere conservate e sviluppate o vengono di fatto completamente distrutte a causa della concentrazione imposta nel territorio comunale e circostante di un elevatissimo numero di persone straniere che, contro la loro volontà dei residenti, di fatto viola la "Convenzione quadro per la protezione delle minoranze nazionali" (whose article 1 L.reg. Veneto n°28/2016), in particular Articles 5 E 16 the same.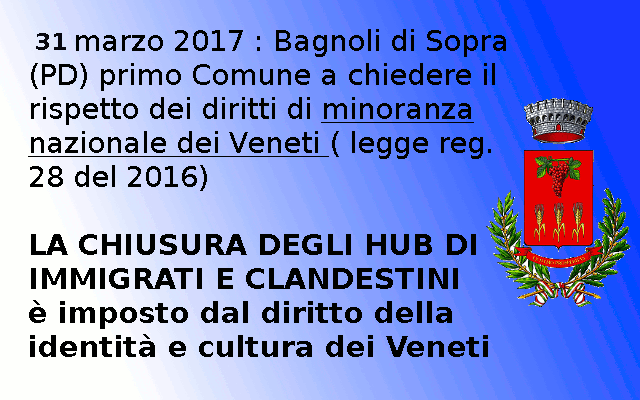 E' the first mayor who chiede l'applicazione della legge regionale 28 of the 2016 , that, let us remember, è pienamente in vigore e non è stata cancellata anche se pende un ricorso del Governo.
E' un evento eccezionale che dimostra l'importanza dei Sindaci, people really in the front row, che possono fare la differenza utilizzando gli strumenti del diritto e rispondendo ai bisogni della propria comunità che li eleggono.
Sarà il primo caso di applicazione della legge che riconosce ai veneti il diritto di vedere rispettata la loro identità, Culture, language and way of life, international law according to which the state must refrain from all acts that destroy these values ​​of the Venetian people.
For more, la Convezione-Quadro internazionale stabilisce che al fine di salvaguardare l'identità dei luoghi, non può essere incrementata la quota di immigrati in tutto il territorio della nazione veneta minoritaria ("minority" è riguardo al territorio dello stato, not in the same territory as the minority) , e i veneti storicamente e da millenni si estendono da Bergamo o oltre l'Istria.
In effetti una rivoluzione è avvenuta, e la popolazione è stata disinformata con facendo credere che si trattasse del "dialect at school".
The transmission "First among equals" va in onda ogni mercoledì alle 21 click below for live online