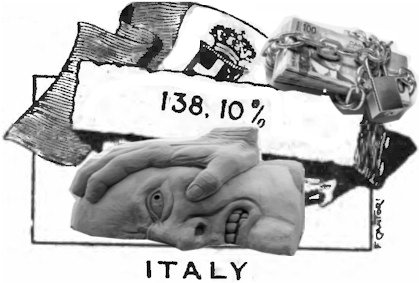 From time to time I am asked to attivarmi into a political project of some kind. Recententemente mi è stato chiesto come mai non partecipo alle elezioni regionali del Veneto. Others have asked me do organize or participate in working groups, l'uno per liberarsi dalla dittatura delle banche, l'altro per denunciare e perseguire alcune sovversioni dei partiti . Oppure per liberare i veneti con l'indipendenza.
Questo tanto più ora che da diversi mesi apparentemente la mia attività politica è nulla. Infattiagli occhi di molti sono fermo sopratutto per il fatto che non appaio in TV.
Nella realtà non sono affatto fermo, semplicemente le Tv non mi chiamano più da quando nel giugno 2014 ho espresso alcune motivate critiche sulla regione per la sua inerzia sulla richiesta di riconoscere la minoranza veneta da parte della giunta di Limena (PD). Comunque in effetti non rimpiango il non apparire in TV, perché è un costo personale: al contrario di quello che molti credono io non vengo affatto pagato per andare in TV, anche se nemmeno ho mai pagato come in raltà fanno molti politicanti. Ma comunque per me andare in una trasmissione TV ha un costo sia in termini di tempo ( mezza giornata di lavoro persa per me vale 200 Euro) , oltre al costo del viaggio. Per esempio fra andata e ritorno a Rete Veneta (l'ultima TV che ancora mi invitava) il mio costo si aggirava sui 35 Euro (benzina e autostrada) E 100 euro di mancato guadagno. Se negli ultimi 20 anni avessi svolto il mio lavoro invece di attivarmi, a quest'ora potrei già avere il reddito di 3 miniappartamenti.
Certamente la nascita di mio figlio e la scomparsa di mio fratello Stefano mi hanno impegnato in famiglia, ed essere padre non è un part time. Per altro ho anche smesso di fumare con tutte le conseguenze. Ma allo stesso tempo questo anno sabbatico mi ha permesso di riflettere sulla vita e sulla mia vicenda personale di denunziante brogli e truffe del regime, e delle banche, clonato da molti e censurato dal sistema. Per chi non lo sapesse in questi 20 anni di lotte contro il regime, sono anche non solo in molti modi denunciato dallo stato (così trattano chi smaschera la mafia al governo), naturalmente senza che questo portasse a nulla (perché sono effettivamente innocente su tutti i piani), per cui dopo qualche anno alla fine si sono ridotti, come ogni buona dittatura, a farmi pestare senza motivo dalla loro polizia, cioé dai Carabinier. Mandandomi all'ospedale ovviamente, senza però fare alcun processo sulla vicenda, perché c'erano i testimoni.
Le riflessioni di quest'anno mi hanno portato a focalizzare ancora di più l'evidenza provata che non esiste "Policy" in questo regime, i partiti sono delle finzioni e non hanno alcun modo per cambiare il sistema, la realtà dei 5 stelle ne sono l'ennesima prova, come lo sono stati prima la Lega, i Radicali, ma anche PD e Forza Italia. L'ho sempre detto, ma la realtà dimostra anche agli stupidi che i partiti altro non sono che macchine di potere, spesso strumentalizzati dalle persone, ma inutili per cambiare le cose in un qualche senso positivo. Oramai con Renzi è evidente che sono solo gli ignoranti del sistema (cioé gli illusi) o i complici a credere ancora che si possano cambiare le cose tramite i partiti.
Ma non può cambiare nulla nemmeno attraverso la magistratura, sopratutto in un paese dove la giustizia è una pura finzione con venature politiche. E' un fatto dimostrato dal dossier sul colpo di stato 1993-1999 che l'Italia non rispetta la Costituzione, un dossier costituito da moltissime denunce fatte per anni, con molta fatica ed impegno personali, imparando i codici, le leggi, the Constitution, tutto dimostratosi inutile. E' finità che sono stato invece denunciato e picchiato dai carabinieri come sopra detto.
Fare le denunzie non serve a nulla, ammesso che si trovi un magistrato disposto ad andare contro il regime (io non ne ho trovato nemmeno uno!), and a lawyer to exposing themselves to professional retaliation (io ne ho trovato uno che si è dimostrato impotente come tutti), al massimo si provoca una contro-azione del regime, che si autoassolve tramite depenalizzazione, the statute of limitations reductions, or generalized amnesties with release also addicts, drug dealers, pedophilia, scammers etc..
to try again, i pochi magistrati che hanno provato a riportare il regime nella costituzione sono finiti epurati. Non solo nel penale, ad esempio la puntata di Report sulla Corte dei Conti dimostra un controllo di regime omnipresente. Ed il regime è in realtà controllato dai padroni del debito, degli usurai bancari che tengono in schiavitù il paese che loro stessi hanno creato con le "guerre d'indipendenza", le mie pagine sulla storia d'Italia lo dimostrano come tante altre letture.
Naturalmente la dittatura ha cura di far credere al popolo di essere in una democrazia ed in uno stato di diritto, cosa assolutamente dimostrata falsa. as said J.J.Rousseau, la miglior forma di dittatura è quella che conserva le apparenze della libertà, soggiogando così la volontà stessa.
Dunque credere ancora nella illusione della politica ( e io ci credevo almeno fino a circa 12 Years ago) non ha senso. L'unica azione che possiamo realmente sperare di realizzare è il "reset" del sistema con l'annullamento dell'unità d'Italia, PUBLIC DEBT, and the return to the pre-unification states. Write me if you are interested.