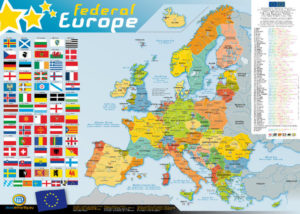 With the entry into force of the Treaty of Lisbon in 2009 the European Union has become stronger, capable of signing binding agreements such as CETA.
A legal revolution that of 2009 which has seen the states less and less independent and increasingly reduced to the status of federated states, although still with the right to "exit".
I vincoli sempre più stringenti e il ruolo del governo europeo, a strong German trend, She has led to the rebirth of nationalism, which for now are tamed, but which are liable to blow the lid.
Tutto ciò era stato previsto, per cui i trattati hanno anche resa più facile la migrazione delle persone e una valvola di compensazione per le identità storiche minori, alle quali vengono riconosciuti i diritti che spesso gli Stati dell'unione, of nineteenth-century birth, deny not implode.
The article 6 the Lisbon Treaty if it ha reso prevalenti le norme del Consiglio d'Europa,standards on human rights are prevalent throughout, sull'Unione e sugli Stati membri.
Un esempio è stato il divieto di imposizione del crocifisso, another recognition of same-sex marriage, e presto toccherà all'imposizione dell'insegnamento delle lingue regionali nelle scuole. And do not call "dialect" regional languages, è sbagliato per il trattato.
I posted on my website a study on this issue, ma in sostanza chi è contrario all'insegnamento a scuola e nelle università delle lingue storiche è contrario all'Europa dei diritti umani, ed è antistorico. Chi è contrario non vuole il bene dei bambini, perché non solo hanno il diritto legale di imparare la lingua dei nonni per la Convenzione sui fanciulli, ma soprattutto traggono molto beneficio dall'insegnamento della lingua regionale e dal multilinguismo, also in terms of the different opening. He also reiterated the well Beltrame Dr., direttrice dell'Ufficio scolastico regionale del Veneto.
Chi è contrario all'insegnamento a scuola della L2 nativa fa una battaglia di retroguardia, con un'idea superata dai tempi e dalle conoscenze scientifiche. The newspapers such as Corriere and the Republic have well embodied this antiquated ideology, imbastendo a battle on anything that demonstrated their ignorance of matter.
Per mascherare l'oggetto del PDL 116 you vote in Venice they have seized upon the prejudices that deny human rights, dimostrando la volontà di fare male alla cultura e al futuro dell'Europa e dell'Italia. E naturalmente senza dare possibilità di replica, dimostrando di vivere in regime di monopolio e solo perché finanziati da uno stato che li usa come mezzi di plagio (otherwise it would take away funding). Se questo è lo stato che noi dobbiamo amare, io non lo farò, I want a democratic country, where the press is not false and serve interests that exploit the people at the expense of human rights.
As reported by the mayor Szumski, quello che l'Italia versa all'Europa annualmente, about 21 billion euros, in realtà è quanto il Veneto versa dall'Italia. Without the Veneto, l'Europa morirebbe seppellita dalle carte. And without the Lombardo-Veneto also Germany should do homework.
Nessuno sta parlando ora di uscire dall'Europa, ma in realtà di portarla a compimento, di farla l'Europa campione dei diritti umani rispettosa della propria ricchezza. And in particular we talk tomorrow of the Venetians, uno dei popoli più antichi e fondatori della civiltà europea.
A Venezia martedì si discuterà di questo, ie the new European future structure we adopt, con o senza l'Italia.
If the PDL 116 verrà approvato i veneti vedranno progressivamente attuare una gestione similare al sud Tirolo, according to the demands of the municipalities.
Will municipalities and government agencies to access funds, without intermediaries, darà loro modo di avere significativi contributi per il personale amministrativo e per i compiti da svolgere. This not only in all local government, but also to the court and state bodies.
So if approved the PDL 116 renderà più efficiente e veloce la macchina amministrativa e della giustizia, il Sud Tirolo dimostra che è completamente infondato che la legge determinerà un aumento di burocrazia.
The PDL 116 inoltre richiama la norma Carta sull'autonomia degli enti locali per la quale essi non possono essere impediti dallo spendere i propri soldi che hanno in cassa. He' un vincolo di bilancio questo che è stato imposto illegalmente dal governo italiano e che ha danneggiato gravemente l'economica e la socialità. If you want to cut squander they must not damage the efficient administrations but must commissariare the wasteful agencies, e si può.
L'approvazione del PDL 116, riconoscendo ai veneti capacità di autogoverno come quelle riconosciute alle popolazioni del Sud Tirolo/Alto Adige, aprirà le porte ad un futuro oggi escluso ai veneti e che farà sparire cattive gestioni come quelle degli hot spot.
And finally we end up with racism against the Venetians, that impunity can be called drunks atavistic. Come mai la stampa non ha condannato l'assoluzione di Toscani? Se si mette insieme questo con la contemporanea negazione della cultura e identità veneta, e inoltre la volontà di insegnare a scuola un'altra lingua come il rumeno o il cinese o l'arabo, si vede chiaramente che si nega ai veneti il diritto umano di coltivare la propria identità. How come this is not labeled as racism?
He' exactly the opposite, è razzismo negare l'identità e la storia e la lingua dei veneti, e lo dicono le convenzioni che l'Italia ha sottoscritto. Rather, proprio la Convenzione europea di cui si chiede l'applicazione vieta questa negazione di diritti.
The Veneto Region at this time for setting up the exclusive title to speak on this issue, exclusive jurisdiction, and must speak on behalf of the State. Se il consiglio regionale dirà no al PDL 116 si sarà data la dimostrazione giuridica della negazione dei diritti dell'uomo ai veneti, of their forced assimilation, e chiaramente diventerà un elemento di potente rafforzamento delle istanze indipendentiste.
In realtà martedì 29 a Venezia si decide dell'Italia, il Consiglio regionale in nome dell'Italia dovrà decidere se riconoscere i diritti umani ai veneti, al netto del fatto che le lingue regionali verranno comunque insegnate in tutt'Italia. Se verrà approvato il PDL 116, l'Italia tutta dovrà trovare il modo di tagliare gli sprechi per lasciare maggiori risorse ai veneti, per cui verrà meno il denaro dei veneti che oggi viene gettato nelle mafie locali, in the largest tax evasion of more territory (Veneto escapes least of all). Il governo sarà costretto necessariamente a combatterle.
In realtà riconoscere i diritti umani ai veneti farà del bene all'Italia e all'Europa che ha negli statuti i diritti umani prevalenti.
Votare Sì al PDL 116 è volere il bene dell'Italia e dei veneti.
If the Regional Council, in nome dell'Italia, deciderà di non riconoscere i diritti umani di minoranza ai veneti, allora il Veneto continuerà nel binario di decadenza che ha da tempo intrapreso. Una decadenza che è anche progressivo distaccamento ideale dallo Stato Italiano, con un indipendentismo che nei sondaggi è maggioritario ed elettoralmente ha dato il governo della regione alla Lega Nord e alla lista Zaia.
He' natural that if you miss the answers, poiché nessuno Stato razzista merita di essere amato, to survive the Venetian will be forced to an alternative route, e non sarà l'emigrazione, non c'è nessun paradiso dove andare.
Chi è contro al futuro di diritti umani e di legalità che è stato richiesto da sette comuni, not only he does not like the Venetians and the territory, but loves life, It is something spiritually and culturally dead, che verrà comunque superato dalla cronaca.
Although today the record to all evidence is in fact controlled by some racist character.
---
Upgrading 1 December. The day 29 November, the Veneto Regional Council has begun discussion of the PDL 116, I wrote, and presented by 4 common (più altri 3) to recognize the national minority rights to the people of Veneto. C'è stato un attacco alla mia persona, e all'Istituto Lingua Veneta che era indicato al punto 3, peccato che l'articolo era già stato riformato ed è sparito del tutto lasciando lo spazio ad un "agglomerated" associations.
The PD has implemented a total obstruction, with unnecessary amendments and the old text-based, and always talking about language as indicated by the newspapers, che c'entra solo marginalmente. L'ostruzionismo è durato ore, until exhausting the patience of Forza Italy and the Italian brothers who were in the courtroom only as not to miss having declared a quorum to vote against. La seduta è stata sospesa alle 19.50 e si riprenderà forse la settimana prossima, when the referendum may have decided that the constitution should be changed. Il PD del Veneto e anche altri movimenti hanno dimostrato disprezzo per l'identità e la storia e la lingua dei veneti. During the election campaign Moretti asked the votes flirting with the Most Serene Franco Rocchetta. Can not be trusted for decades.